The Chinnan Family Community Endowment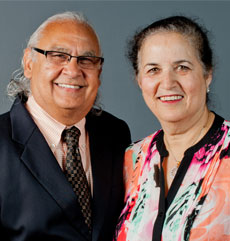 by Thomas Giffin
If you spend time with Lata Chinnan, you discover that she likes to lead from the front. Softly, quietly, and always with grace… but if the organization or civic group is moving forward in the Southern Crescent, you will usually find Lata deeply involved.
The old saying, "if you want to get someone's attention… whisper," applies to Lata. Whether it is being the number one math student back in her eighth grade, or winning this year's Clayton County Chamber of Commerce's highest honor for community service, Lata's whisper holds the force of a lion's roar.
"Lata Chinnan is a unique force," explains Clayton State University Foundation Chair Tim Crawford. "While serving as a member on the Foundation's Board, she has combined knowledge, wisdom, and strategic guidance with a confidence that has allowed for solutions to arrive through consensus. Paraphrasing and old advertisement, "When Lata talks – it will be softly – but everyone listens."
Fittingly enough, Clayton State University President Dr. Thomas Hynes, then chair of the Clayton County Chamber of Commerce, was the leader who recently presented Lata with the Chamber's Carl G. Rhodenizer Community Service Award at the organization's premier annual awards event. During her congratulatory remarks, Lata credited her numerous efforts to her deep-rooted belief that education is the path that can literally change people's lives.
"I was blessed with parents that believed in education," Lata told the overflowing crowd. "I have a brother and six sisters and each one of us were taught very early the importance of education. Math and reading were emphasized, but no matter what subject, my parents always supported us to keep our grades up."
Lata and her husband, Manjeet, a professor and graduate school advisor at the University of Georgia recently established the Chinnan Family Community Endowment at Clayton State. The scholarships provide for students interested in a global perspective through study abroad, and to support international scholars from India. The endowment also allows opportunities for CSU faculty and staff to benefit from Rotary membership and programs such as Leadership Clayton.
"Giving back to the community is just part of my life with Manjeet," Lata recently said. "I tell my friends, 'Do not wait to give back. Do it now. If we do not, who will?' I have never regretted assisting others."
Lata and Manjeet have also established two other endowments; one at their Alma Mater in India at the Punjab Agricultural University, and the second endowment at the University of Georgia.
Lata's drive has always been a part of her fabric. Lata started her athletic career in middle school competing in field hockey and track & field. She went on to play for the Indian National Field Hockey team and play in the first-ever Women's World Cup in France. After graduating with a Master's Degree in biochemistry from India's Punjab Agricultural University, Lata's love of travel abroad remained strong. She has been around the world; visiting some glamorous locations, and numerous underdeveloped countries whose residents have also benefited from her philanthropic kindness and huge heart.
Lata's professional successes have come from being President of New South Package Store in Riverdale, Georgia, which will celebrate its 30th anniversary of business this year. Between her successful career, numerous civic duties, and her frequent international travels, Lata is also proud to say that she has completed over 30 courses in the Clayton State Continuing Education program.
"One should never stop learning new things," Lata explains. "I have taken continuing education classes in everything from management to floral arrangement and each class has added to my professional and personal life."
Successful businessperson, generous philanthropist, award-winning civic leader, and globetrotting humanitarian… if you are looking for Lata Chinnan, look straight ahead. One will never find this special, quiet leader by looking anywhere except towards the front.