Campus and Instructional Sites
Clayton State University Main Campus
Situated on 214 acres, Clayton State University's main campus offers a peaceful learning environment in a park-like setting in Morrow, Georgia. Four colleges—College of Arts and Sciences, College of Health, College of Information and Mathematical Sciences, and the College of Business—reside at the main campus.
Students also have access to the University's dining, recreation, athletic, and administrative resources. The main campus is just minutes from Hartsfield-Jackson International Airport and downtown Atlanta.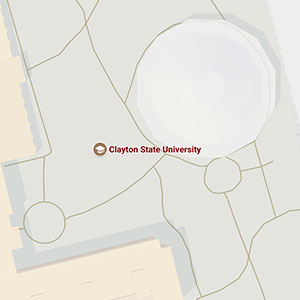 2000 Clayton State Boulevard Morrow, GA 30260
PDF of map (Download the printer-friendly map)
Clayton State East
Located off Trammell Road, just behind the main campus, Clayton State East houses additional administration offices for the University.
Arbor Hall consists of the Human Resources department, in additional to an auditorium, Army ROTC offices, a testing center, and additional classroom space.
Woodlands Hall includes the divisions of Business and Operations and University Advancement.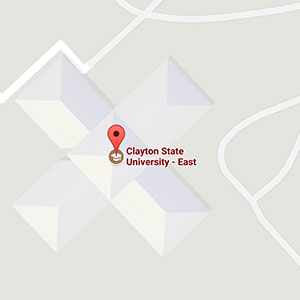 5823 Trammell Road Morrow, GA 30260
Clayton State-Fayette Instructional Site
Clayton State-Fayette provides a convenient location for South Atlanta residents and offers a number of undergraduate and graduate degree programs. The modern facility is located in Peachtree City, Georgia, just 15 minutes from Interstate 85.
See program offerings at Clayton State-Fayette Instructional Site
The site is also home to Clayton State University's Dual Enrollment program, which offers high school students an opportunity to take college-level courses for credit.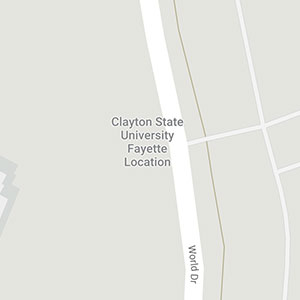 100 World Drive, Suite 100 Peachtree City, GA 30269
Clayton State Henry County
The Clayton State Henry County site houses the Academy for Advance Studies and serve as the University's second location for the Dual Enrollment program. The building is attached to Henry County High School in McDonough, Georgia.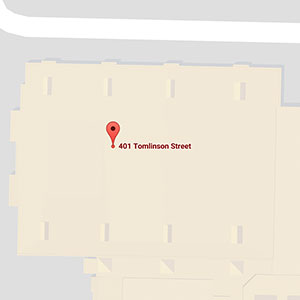 401 Tomlinson St. McDonough, GA 30253
Clayton State Film Studio at Lucy Huie Hall
Clayton State Film Studio at Lucy Huie Hall, located in Jonesboro, Georgia, is a former aviation hangar for Clayton State's aviation maintenance courses that was redevelopment into a 10,000 square feet working film studio in 2013.
The building offers a sound stage, shooting space, backdrops, lighting grid, production equipment, as well as classroom and office space. Lucy Huie Hall can be rented for film productions.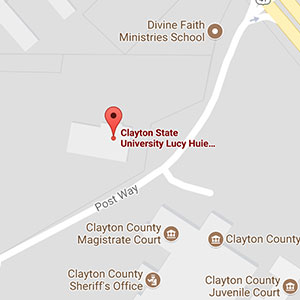 9013 Tara Blvd. Jonesboro, GA 30236