University Housing
Our campus will be your home away from home as you work toward making your dream real, and we want you to feel welcomed and comfortable. One way to really get to know Clayton State and ease into life as a Laker is by living on campus. Our vision is to become an inclusive residential community that develops independent and moral thinkers by modeling civic engagement and prioritizing academic success.
You'll be just a quick walk away from your classes and important facilities, such as labs and the library, as well as from the dining spots and the Student Activities Center. You will also find it easier to stay active and engaged with your peers and the many events on campus that make being a Laker a one-of-a-kind experience.
Welcome Home!
Our mission is to provide a secure, affordable, and progressive living community through hands-on academic support, experiential learning, and unique leadership opportunities that enhances our students' growth and development. Our residences are about community and creating an environment where you can feel secure relaxing and studying. That's why, unlike a lot of student-residence halls on college campuses, Clayton State steers away from shared rooms and communal bathrooms.
We offer fully furnished, suite-style living with private bedrooms and, at minimum, two bathrooms, with a shared living room and kitchenette—so you can be part of the crowd and still have your own space when you need it.
Ready to find your home away from home?
Laker Hall
Laker Hall is home to undergraduates, particularly entering freshmen. It offers great amenities, such as private bedrooms, wireless access, and onsite laundry facilities, as well as a supportive community. You can lean on your peers and also on seasoned Resident Assistants, who are happy to answer your questions and help you find your way around campus!
Take a peek at Laker Hall floor plans.
Laker Hall virtual tour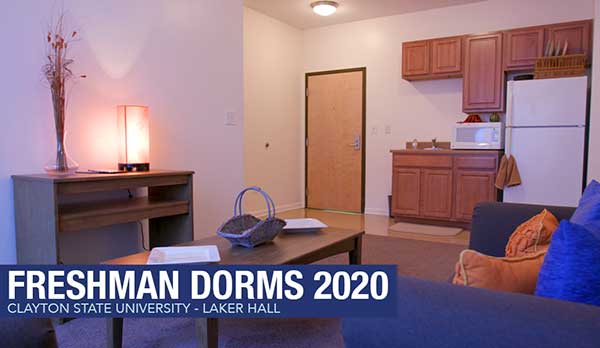 ---
Laker Village
Laker Village is where many of our upperclassman and graduate students live. The amenities include such conveniences as full furnishings, private washer and dryer, picnic areas, and a pool on the grounds. Living at the Village combines the independence of living in an apartment with the convenience of living on campus, close to your classes.
Explore Laker Village's three floor-plan options.
Laker Village virtual tour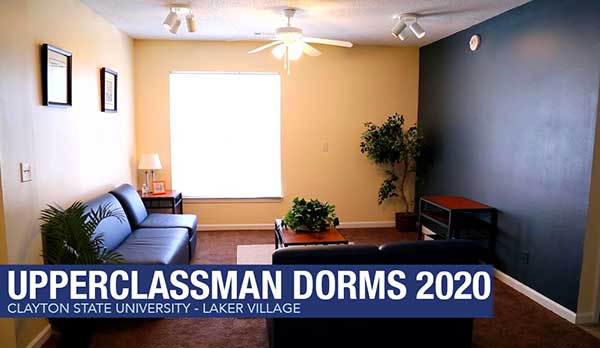 ---
Dining on Campus
Healthy, balanced meals that give you all the energy you need to make that dream of yours a reality are an important part of your success at Clayton State. That's why a meal plan is required for Laker Hall residents, who are still getting used to campus life, but not for Laker Village residents, who already know the ropes.
Our on-campus dining centers serve up delicious, homemade meals every day—fresh fruits and salads, soups and sandwiches, pasta and burgers, savory veggies, tasty desserts. You name it, we've got it. You can even get it to go!
Check out all of our dining locations on campus.
---
University Housing Assignment Advisory Board (UHAAB)
The student board are residents living on campus who will help develop the Housing Assignment Process by providing feedback for each of the necessary steps in the process. UHAAB members seek out what issues are important to residents for renewals and selecting room assignments. The Board's involvement is the key to an effective room selection process.
University Housing and Residence Life
Business Mailing Address
2000 Clayton State Boulevard
Morrow, GA 30260

Resident Mailing Address
YOUR NAME
Clayton State University
5809 North Lake Drive, Box xxx
Morrow, GA 30260
Housing Office Phone Number:
(678) 466-HOME (4663)
Housing Office Fax:
(770) 961-2000
Email Address:
housing@clayton.edu
Laker Hall Desk/Housing After-Hours Emergency Phone Number:
(678) 466-5130
Housing Maintenance Request
Submit a maintenance request
How to Submit a Maintenance Request
Maintenance Contact
(678) 497-4449