Rolling. Action!
Fall 2020 | By Kelly Petty
Clayton State University students find success in film industry
Hollywood has called and Clayton State University has answered. Within the last year, students in the film department have made significant strides in the $9.5 billion film industry in Georgia through internships, new jobs and producing their own original works.
"The film faculty are extremely proud to see our students winning awards, having their films screened in film festivals nationwide, and getting creative jobs in the film and television industries," said Jonathan Harris, associate professor of film. "In our film program, they learn the skills they need to be innovative and capable creators. Our program graduates producers, cinematographers, editors, screenwriters and other creatives who have a solid grounding in how to create real-world, hands-on, collaborative projects. We also try to connect them with their first contacts in the industry and emphasize networking with industry professionals to make finding a career that much easier once they graduate."
---
Film student cast for Clint Eastwood film about Richard Jewell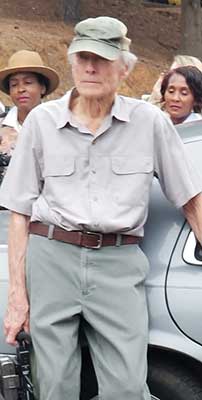 Film student Greg Gowers was cast in director Clint Eastwood's critically acclaimed box office film "The Ballad of Richard Jewell." The film, which centers on the 1996 Olympic Park bombing in Atlanta, Georgia, and the story of Richard Jewell, who was falsely accused of the bombing, was filmed in the summer of 2019. Bower played the role of a CNN cameraman that was part of a horde of reporters that hounded Richards every move for two months.
"I learned a lot about how a film set can be managed from this experience. Mr. Eastwood runs a 'quiet set' at all times. This means that he doesn't yell 'ACTION' and 'CUT' nor does anyone else on set. This forces you to pay attention to what is going on at all times," Bowers said. "You must always be on your mark and ready to perform. This is a part of how he can get an insane amount of shooting done in a short amount of time."
---
I Am Here documentary selected for Morehouse Human Rights film festival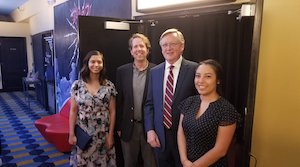 "I Am Here," a collaborative short film produced by students from Clayton State, Georgia State and Sheridan Universities has been selected for a screening during the Morehouse Human Rights Film Festival.
The 20-minute short film tells the story of a brother and sister who were tragically separated in Syria. Due to remarkable circumstances, and the power of spoken word, the siblings are reunited and able to imagine their future lives together.
Sponsored by Morehouse College, the festival features documentaries that provoke discussion on global issues of race, poverty, social justice and politics.
Clayton State students Marina Hernandez-Gomez '20, Kelsey Gilbert, Terrance Lomax, David-Dennis Morgan and Evangeline Newcomb '19 served as the editorial team for the film. Last fall, the film won Best Student Short at the Rome international Film Festival in Rome, Georgia.
---
Student filmmakers rack up awards, spot at Cannes Film Festival through Campus Movie Fest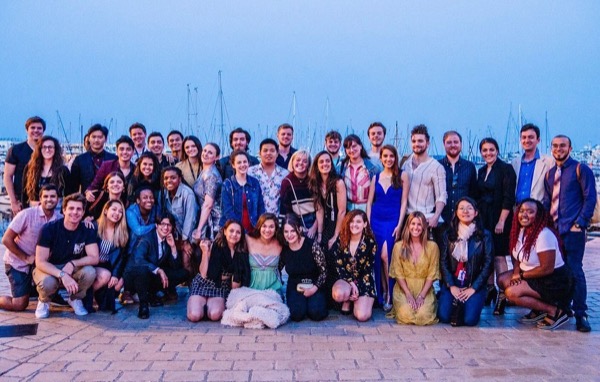 Clayton State University students were top winners during the 2019 Campus Movie Fest competition, earning a spot at an international film festival.
More than 20 student filmmakers submitted films to self-proclaimed "World's Largest Student Film Festival," which gives students one week and film equipment to create a five-minute movie.
---
Seven films from Clayton State took home multiple awards in writing, acting, cinematography and editing. The winners were: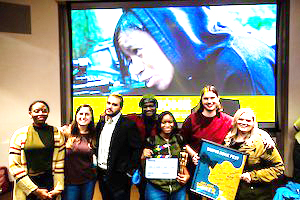 Home
by Kayla Marcus, Kara Marcus, Sam Smith, Carley Reed, Sierra Hall, Caleb Lorentz and David-Dennis Morgan
Silver Tripod Winner – Story
Silver Tripod Winner – Best Actress
Jury Award Winner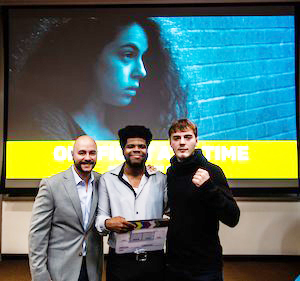 One Fight at a Time
by Carlos Douze, Erynn Gandelman and Quinn Reeder
Silver Tripod Winner - Cinematography
Jury Award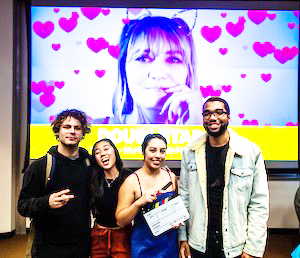 Double Tap Me
by Vyvy Thai, Marina Hernandez-Gomez, Rennie Hawk, Bailey Stevens and Shane Chine
Golden Tripod Winner – Best VFX
Silver Tripod Winner – VFX
Jury Award Winner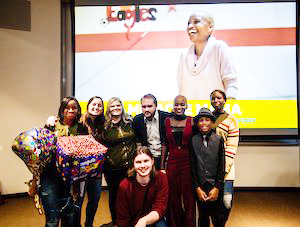 Miracle Mama
by Sierra Hall, Carley Reed, Caleb Lorentz, Kara Marcus, Sam Smith and Kayla Marcus
Silver Tripod Winner – Documentary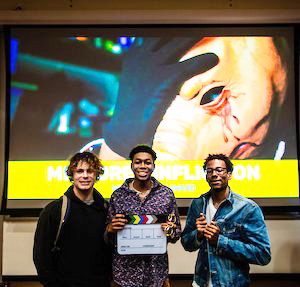 Mirrored Infliction
by Jalen Williams, Bailey Stevens, Jordan Williams and Kyle Thompson
Jury Award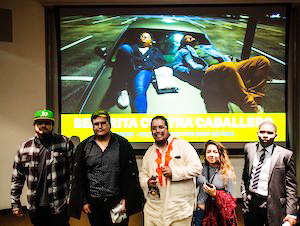 Señorita Contra Caballero
by Vincente Varela-Gomez and Yackeline Puente
Silver Tripod Winner – Editing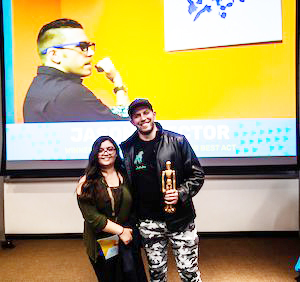 Your Art is Showing
by Jason Spector, Alma Interiano, Kristen DeSantis, Claredon Sharp and Nathan Anderson
Silver Tripod Winner – Acting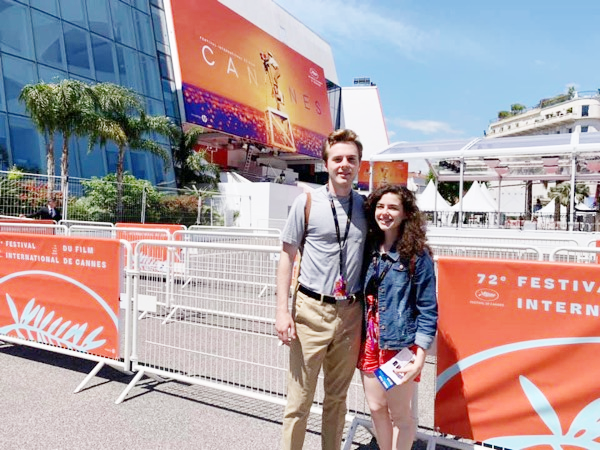 In addition to the awards, film production majors Erynn Gandelman and Quinn Reeder were selected to attend the 2019 Cannes Film Festival to screen their 2018 film, "What?," as part of the Campus Movie Fest program. The film followed a girl stuck between two cultures struggling to fit in.
"The Cannes Film Festival was extraordinary! It was an experience like no other," said Gandelman and Reader. "We got to see how film premieres come together, attend networking events with industry professionals – made some very valuable connections – attended the screenings and premieres as well as sub-competitions within the festival and so much more. We would go again in a heartbeat. It was an overall amazing experience and we are proud of what we were able to accomplish with 'What?'"
---
"Moonlight Blues" earns national, international awards for screenwriting
Film production major Celeste Smith has earned multiple awards and recognition for her short screenplay, "Moonlight Blues." The script follows the story of Evangeline, a best-selling author, and Oliver, a local but well-known multi-instrumentalist, and explores whether the two can find love in one another or if they are too broken to be fixed.
The script won best short script at the Independent Shorts Awards, the Outstanding Achievement Award: Short Script from the Cult Critic Movie Awards and an honorable mention: Short Script from the New York Movie Awards. The script was also a finalist at the European International Film Festival and the Rome Independent Prisma Awards and was an official selection of the Austin Screenplay Awards.
---
Other Film festival screenings and awards news
David-Dennis Morgan '20, won an award from the Los Angeles International Film Festival's Indie Short Fest for his film "Perfect." The film has taken three awards at the Illume Short Film Festival for best actress, best director and best proof of concept.
Kayla Marcus film, "Nothing but the Truth," was screened at the following festivals: New York International Film Awards, Lift Off Global network New York 2020, Southern Shorts (won awards for best director, best editor and best cinematography) and Top Shorts Film Festival (semi-finalist).
Marcus's film also earned several awards including:
Independent Shorts Award Festival: Award Winner – Platinum Award for Best Short Script (highest award)
Cult Critic Movie Awards Festival: Award Winner – Best Short Script
Rome Independent Film Awards Festival: Finalist – Nominated for best Short Script
New York Movie Awards Festival: *Finalist – Best Short Script (won't know the results for a few more days)
Austin Screenplay Awards – Quarterfinalist
Related Stories
MUSIC LIVES
By Kelly Petty
When Reda Rowell, former director of development and alumni relations, thinks back to her earliest meetings with Lon Carnes, she recalls a man that was the true definition of a southern gentleman.
---
ON THE MOVE
By Allison Salerno
At a time when politics is being energized by a young, diverse electorate, Frederick Hicks '99, finds himself becoming a transformative leader as one of Georgia's top political strategists.
---
TOKYO BOUND
By Chuck Tidmore
AClayton State head track and field coach and five-time Olympian holds out for a future run at a postponed Olympics