The Book Keeper
Fall 2020 | By Kelly Petty
Dr. Gordon Baker's career in library service has shown him that libraries build community
In a 40-year career, Clayton State Library Dean Emeritus Dr. Gordon Baker, has held many roles—elementary school teacher and public school librarian, district-wide coordinator of instructional technology and media services, reference librarian and library director.
And because of his commitment to literacy and public library access for all, he can add another chapter to his own story—Public Library Champion of the Year. Earlier this March, Baker, along with two other prominent librarians in Georgia, was honored for his longtime public service at the state capitol.
He received a commendation from the governor, as well as a resolution from state legislators honoring him as a recipient of the prestigious award.
For Baker, the honor is a culmination of his life's work and the legacy he hopes to leave at Clayton State University.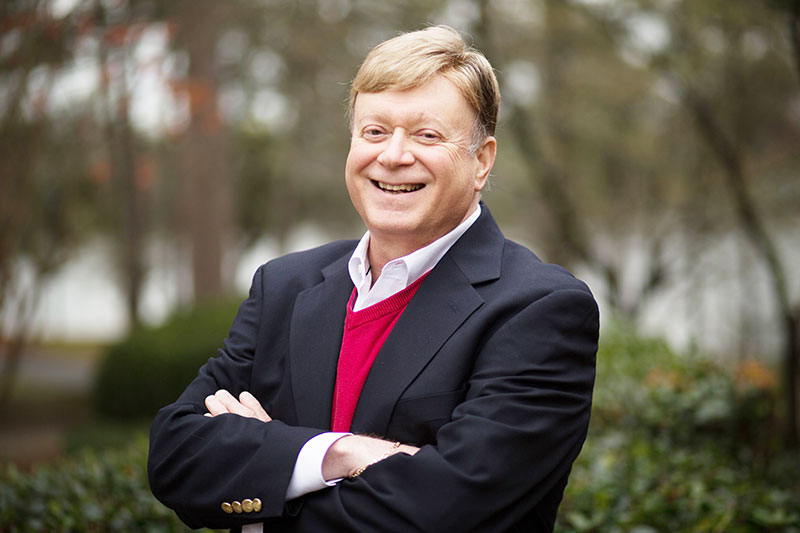 "I am very touched by it and it just makes me really want to work even harder for libraries," he says. "I have truly been blessed."
You could say that Baker was destined to make a career out of books. Both his mother and father were teachers in the Henry County Public School System. His father even went on to become principal and later district superintendent, where he had a role in the development of what was known then as Clayton Junior College.
His aunt was a librarian in the south Georgia regional library system in Valdosta. So, it came as no surprise that he would follow in his family's footsteps.
"Almost all of my relatives were educators in some way," Baker says.
Baker was able to skip his senior year of high school by finishing his courses ahead of schedule and start his educational career at Clayton Junior College. At Clayton, he blossomed.
"I was just starting fresh and I was not the superintendent's son, so I was doing everything on my own," he fondly remembers.
As a Clayton Junior College student, he helped formed the education club and served as its president. He was also a member and treasurer of the student senate.
"It gave me the foundation to be the leader that I've evolved into now in my associations and private life," he says.
Clayton Junior College was still a two-year college by the time Baker could have graduated in 1972.
"But I stretched out my classes hoping Clayton State would become a four-year school," he says.
Eventually, Baker graduated with a bachelor's degree in education from Valdosta State University, where two of his aunts and his mother attended when it was a woman's college. Interestingly, his father also went to school at Valdosta's north campus when it was known as Emory College.
"It was sort of deemed that I would go to Valdosta State," he recalls.
Baker initially started his career as an elementary school teacher at Beaver Brook Elementary School in Griffin, Georgia. And for one period of the day, he had an opportunity to assist the media specialist in the library.
"It was interesting to be able to do both things that I loved to do in one place," he says. "Even then, I was still so in love with Clayton that I took my fifth-grade science class to Clayton's campus and we spent the day there."
Between earning a master's and a doctorate degree and moving up the ranks in his career, Baker saw the rapid shift of the school library from a book repository to a resource center. Card catalogs being replaced with digital databases to the increased need for Wi-Fi access for students, Baker was at the forefront of it all.
"When I went to Kemp Elementary in Clayton County in 1983, we were one of the pilot schools for automated checkout using computers," he remembers. "It was a big step and the first year we had 64 visits from other schools and graduate classes for us to explain the process. It was exciting."
He opened the library at Eagles Landing High School in 1990 to pilot a Follet system for automated checkout and card catalog. He later became the network specialist for the school.
Working on his doctorate at the time, his dissertation focused on a two-part project—first, creating an Interlibrary loan program among the Henry County schools, Clayton State Library and the public library system; then creating a program to teach students how to use the internet. Both programs were established in the school system by Baker.
And after working 30 years in the K-12 system, Baker finally found a permanent home at Clayton State University and earned a full-time position in 2004, a place he had worked at on and off during his career as a librarian.
He remembered when the university's library building was established in 1980. By the time he was named the dean of libraries, he was able to lead the two-year, $4.9 million renovation of the University Library in 2014.
"I always viewed the library as the largest classroom in the school and I have preached that to librarians across the state," he said.
At each juncture, and even now as COVID-19 continues to affect daily life, Baker believes libraries remain a fundamental part of a community.
"The pandemic has completely defeated purpose of what libraries do," he says. "But [librarians] just have to roll with the flow."
While he may be retired from a 40-year career at Clayton State—of which he is proud to say that he is the first and only individual to earn four decades of service at the university—Baker is still inspiring future librarians as an adjunct instructor at Valdosta State.
"We're no longer librarians; we're sort of cruise directors," he says. "I think that's what librarians are doing today, they're trying to meet all of the different needs and the needs change."
He tells his students that regardless of the changes that libraries may face, these community institutions and the people that serve in them will always be needed.
"Libraries are still as they've always been, the storehouse of knowledge," Baker says. "They now have diff ports to get you to that knowledge, but they still are the holders of all knowledge."
Related Stories
MUSIC LIVES
By Kelly Petty
When Reda Rowell, former director of development and alumni relations, thinks back to her earliest meetings with Lon Carnes, she recalls a man that was the true definition of a southern gentleman.
---
ON THE MOVE
By Allison Salerno
At a time when politics is being energized by a young, diverse electorate, Frederick Hicks '99, finds himself becoming a transformative leader as one of Georgia's top political strategists.
---
TOKYO BOUND
By Chuck Tidmore
AClayton State head track and field coach and five-time Olympian holds out for a future run at a postponed Olympics