In the Paint
Kevin Young '04, takes center court as assistant coach for the NBA's Philadelphia 76ers
On August 4, 2016, former Clayton State men's basketball player Kevin Young became what is believed to be the first Laker to reach the National Basketball Association when he was named an assistant coach for the Philadelphia 76ers.
Young played for the Lakers from 2002-04, seeing action in 59 games and averaging 7.1 points, 3.4 assists, 1.5 steals and 2.5 rebounds. He currently has four marks within the program's all-time Top-10 records, including single season marks of 55 steals and a 1.8 steals per game average in 2002-03 and career marks of 3.3 assists per game and 197 total assists.
Since then he has worked his way up the coaching ladder with stops at Utah Valley University and throughout the NBA's Developmental League. In the D-League he was an assistant for the Utah Flash (2007-11), head coach of the Iowa Energy (2011-13) and held several roles with the Delaware 87ers (2013-16), the last two years of which were as head coach.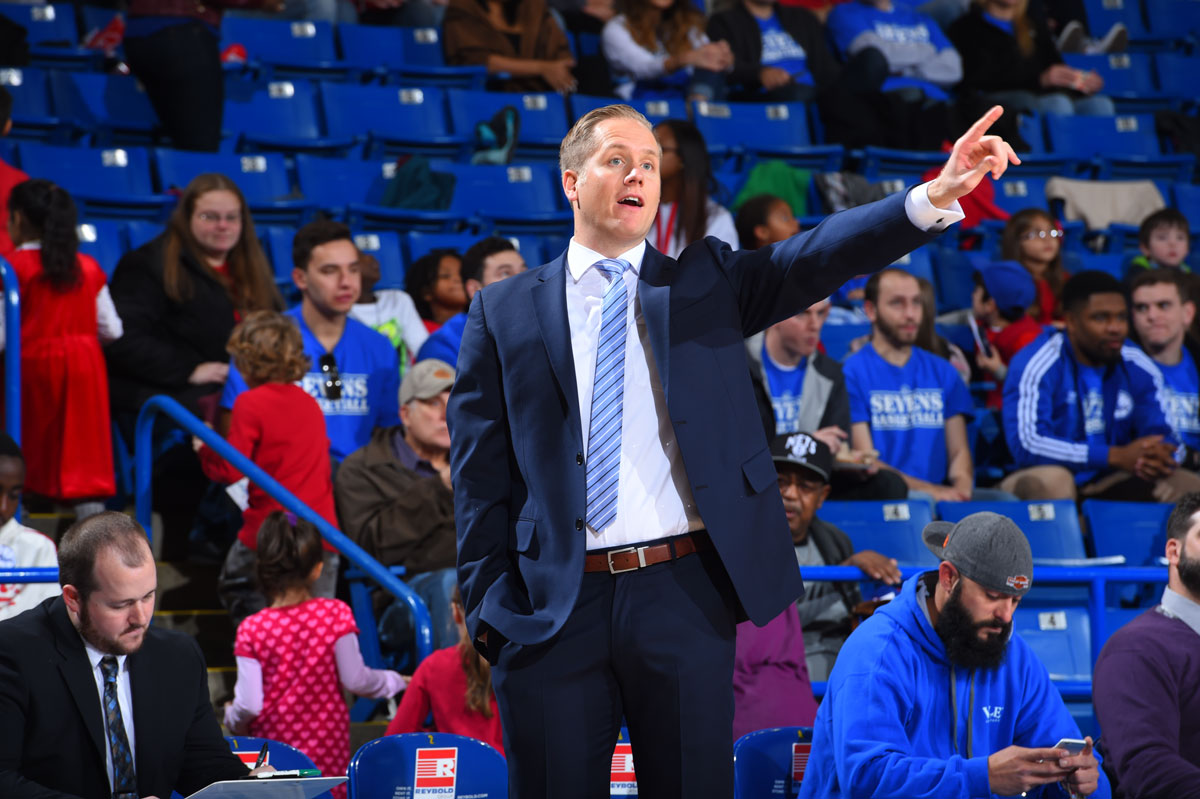 "The best advice I received as a young, ambitious coach, was to do the best you can where you are and don't worry about anything else."
Now, nearly half a year into his job at the NBA level, www.ClaytonStateSports.com caught up with the former Laker point guard to get his perspective on working at the highest level of basketball, how he got there and what advice he would give to those trying to follow in his footsteps.
CLAYTONSTATESPORTS.COM: Working your way up through the ranks (junior college, Division II, D-League), what have you learned along the way that has been most helpful by taking that path? Most challenging?
KEVIN YOUNG: I've been fortunate to work with a lot of very good coaches and coach against a lot of very good coaches throughout my career at all levels. I've taken things from each one of them along the way. I've learned that there are many, many different ways to do things. I think the key things I've learned are to find what you believe in as a coach and run with that, don't over complicate things, and learn how to communicate with players.
The most challenging aspect was certainly my time as a head coach in the D-League. There are so many difficult things to deal with on almost a daily basis in that league - travel, roster turnover, budget, etc. … That said, I wouldn't change any of those experiences for anything. It made me a better coach, figuring out ways to problem solve and put my teams and players in situations to succeed regardless of all the different challenges.
CLAYTONSTATESPORTS.COM: What advice would you give to someone facing a similar path but with the desire to advance to the highest professional ranks? Have you connected with any other coaches that have taken a similar path as yours?
KEVIN YOUNG: The best advice I received as a young, ambitious coach, was to do the best you can where you are and don't worry about anything else. I took that advice to heart and have always tried to immerse myself in the task at hand wherever I found myself coaching. That can be a challenging thing, especially in the D-League when you see so many coaches, players and management types moving on to the next level. That is what I would say to anyone trying to move up the ranks: Get lost in trying to do the best you can where you are and let opportunities find you. Surprisingly, there are a lot of coaches in the NBA that have taken unconventional paths to get there.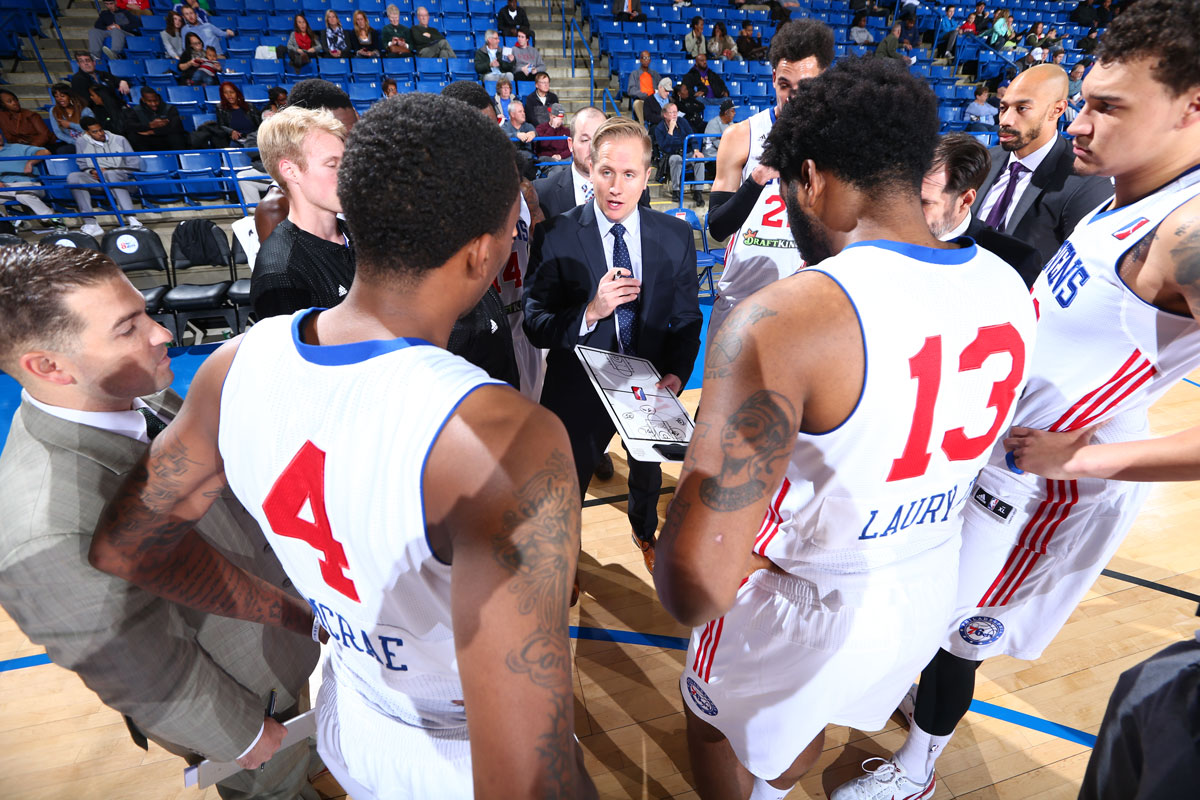 CLAYTONSTATESPORTS.COM: Having reached the NBA, what do your career aspirations look like now and was it always your goal to coach in the NBA?
KEVIN YOUNG: I always wanted to be a high school PE teacher and coach. My high school coach, Roger Kvam, had a major influence on me. Once I got to college and built relationships with my college coaches, I thought maybe I would try to coach in college. As I moved through my career, I got lucKEVIN YOUNG with some opportunities and tried to make the most of them. Once I found myself coaching in the D-League and had some early success as a head coach in that league, it gave me confidence as a coach and that's when I started thinking I wanted to really try to get into the NBA. Now that I am in the NBA, I would ultimately love to be a head coach in this league down the road. That said, I absolutely love what I'm doing as an assistant for Coach [Brett] Brown and am indebted to him for the opportunity. I am learning so much about the NBA every day. It's a whole new world at this level.
CLAYTONSTATESPORTS.COM. What do you remember most about your time at Clayton State?
KEVIN YOUNG: I remember how much I enjoyed my teammates and coaches during my time at Clayton State. Coach Gibbons and Cory Baldwin were the reason I decided to go to Clayton State and I learned so much from them. I still talk to many of those guys. In fact, we were in town playing the Hawks earlier this season and I had several people from Clayton State come to the game to support me. That really meant a lot to me.
CLAYTONSTATESPORTS.COM: In just several months on the job at the NBA level, what differences have you seen from college and the D-League (operations, travel, coaching, level of play etc.)?
KEVIN YOUNG: The biggest difference I've seen in the NBA versus other levels I've been at is the star players. In the first few months of the season, I've unfortunately learned firsthand just how talented the superstars in this league are. We've had a lot of close games against good teams, and guys like [Russell] Westbrook, Lebron [James], Kyrie [Irving] and Paul George can just take over games in crunch time. It's also been interesting to see the creative coaching minds in the NBA. I've been able to learn a ton in this short time thus far.
Of course, the size of the operation at this level is much larger than other places I've coached at. The travel is much more frequent, but the mode of travel is obviously nice with the private planes and the hotels.
Read more stories from this issue
Clayton State Men's Basketball Coaching Tree
Not only have Clayton State men's basketball players succeeded on the court during their careers as Lakers, a number have gone on to coach at some of the highest levels of professional and college basketball. Below is a list of just some of the individuals who have gone on to a productive coaching career. The list shows their current position, each coaching stop along the way and when they played for Clayton State.
Kevin Young, Philadelphia 76ers (National Basketball Association) Assistant Coach (2016-Present)
Delaware 87ers (NBA D-League), Head Coach (2014-16)
Delaware 87ers (NBA D-League), Assistant Coach (2013-14)
Iowa Energy (NBA D-League), Head Coach (2011-13)
Utah Flash (NBA D-League), Head Coach (2010-11)
Utah Flash (NBA D-League), Assistant Coach (2007-10)
Utah Valley University, Assistant Coach (2005-06)
Oxford College of Emory, Assistant Coach (2004-05)
Clayton State Guard – 2002-04
Stephen Cox, Kennesaw State Assistant Coach (2015-Present)
Thomas University Head Coach (2013-15)
Georgia Southwestern Assistant Coach (2010-13)
Savannah State Assistant Coach (2008-09)
Mercer Assistant Coach (2007-08)
Santa Fe Community College Assistant Coach (2004-07)
Clayton State Forward/Center - 2002-04
Jay Gibbons, South Carolina Director of Men's Basketball Video Services (2015-Present)
Savannah State Assistant Coach (2005-15)
Georgia Southwestern State Assistant Coach (2003-05)
Clayton State Graduate Assistant Coach (2002-03)
Clayton State Guard - 2001-02
Cory Baldwin, South Georgia State Head Coach (2009-Present)
Cartersville Warriors (World Basketball Association) Head Coach (2008-09)
Truett-McConnell Head Coach (2005-08)
Clayton State Assistant Coach (1999-2000)
Clayton State Guard - 1995-99
Tony Dukes, Louisville Women's Basketball Graduate Manager (2015-Present)
BBALL 101/Dorian Lee - Player Development Coach (2013-Present)
Clayton State Guard - 2011-13