Tatiana Bradley - Student Profile
If you see Tatiana Bradley around campus, you will find that she is quite the social butterfly. But Bradley would say that it was not always the case. In fact, when she arrived at Clayton State four years ago, she described herself as a "parking lot kid."
"I was here for knowledge, not for friends," says Bradley.
It was not until she landed her first job working in the First Year Advising and Retention Center that Bradley began to take an active role on campus and grasp every opportunity to become involved.
Gradually, she became a member of Alpha Kappa Alpha Sorority Incorporated, president of the Fraternity and Sorority Council, resident assistant at Laker Hall and a spirited cheerleader.
These student organizations were the fuel for her to finally make new friends and take on leadership roles across campus.
Many of her peers wonder how Bradley is able to take on such a wide variety of roles on campus and maintain her sanity. According to Bradley, it all revolves around the three P's—her personal day planner, prayer and prior preparation.
"This is what gets me through each day," she says. Each morning Bradley recites a daily prayer. She also carries four planners—one on her phone and three physical ones—to help her stick to a schedule and remain focused.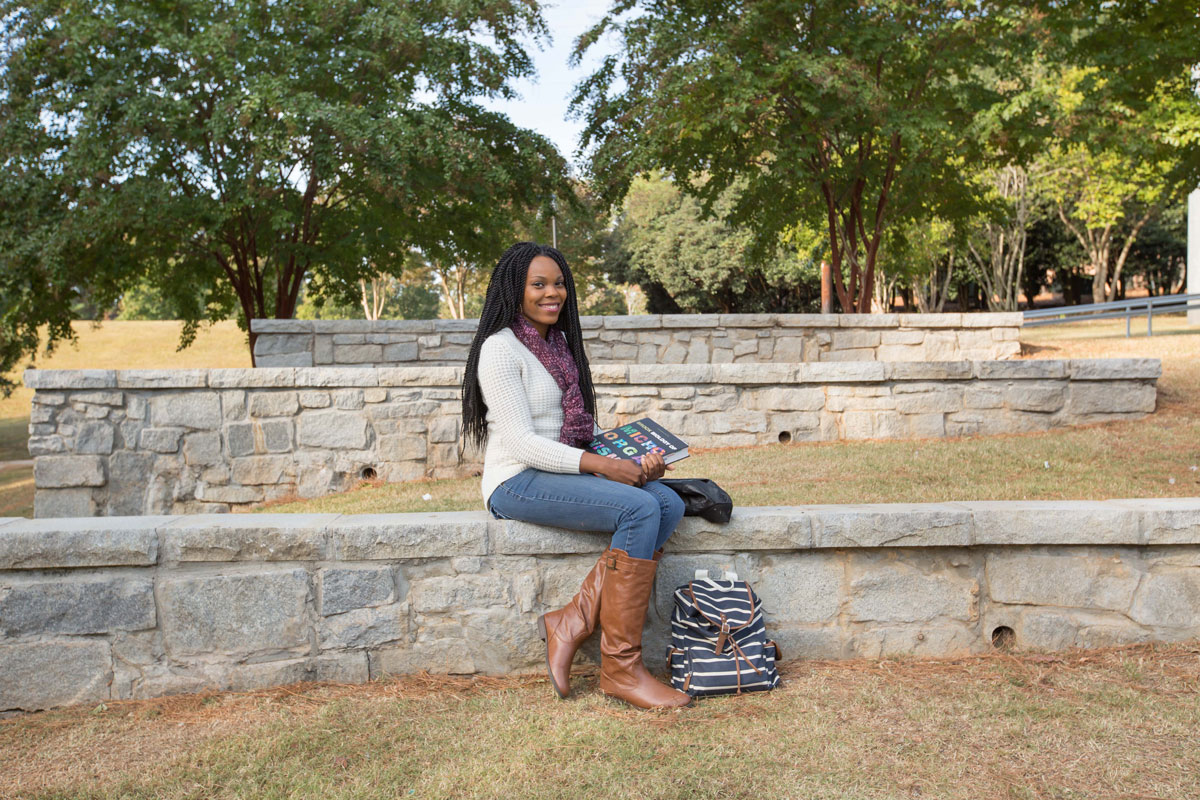 "I was here for knowledge, not for friends," says Bradley. "This is our university; we should become involved in it," Bradley says.
Majoring in Biology, Bradley desires to be a pharmaceutical engineer.
Her interest in science evolved at a young age because of her passion for nature. Bradley has always seen the world differently. Whether she's analyzing food labels, identifying plants or studying wildlife, Bradley is drawn to the complexity of the environment.
"I find myself becoming a little nerd," she says.
As graduation fast approaches, Bradley says the faculty, staff and programs at Clayton State have prepared her for life after college.
Career Services, for example, taught her proper interview techniques and helped her nail a perfect elevator pitch. Campus Life and the Center for Academic Success improved her networking skills and set her on a path toward accomplishing her goals in the classroom.
Bradley says those lessons have taught her how to deal with the ins and outs of a professional career.
"I can honestly say that I am prepared for everyone's personality that I may encounter," she says. "The one who doesn't do any work, the one who always has an attitude, the one who's an over-achiever, the one who wants to be a leader—I am prepared."
As Bradley reflects on the moment when she steps across the stage in May to accept her degree, she strives to remain a positive role model on campus. She encourages other students to let their voice be heard to make positive change at Clayton State.
"This is our university; we should become involved in it," Bradley says.
Read more stories from this issue