Alumni Spotlight: Gantt Thomas
(April 10, 2018) -Some students enter college knowing exactly what career path they plan to take. Others have opportunities and events placed before them that cause those plans to change. Clayton State alumnus Gantt Thomas '15 may not have planned to spend over a year halfway across the world shortly after graduation, but that's what he did.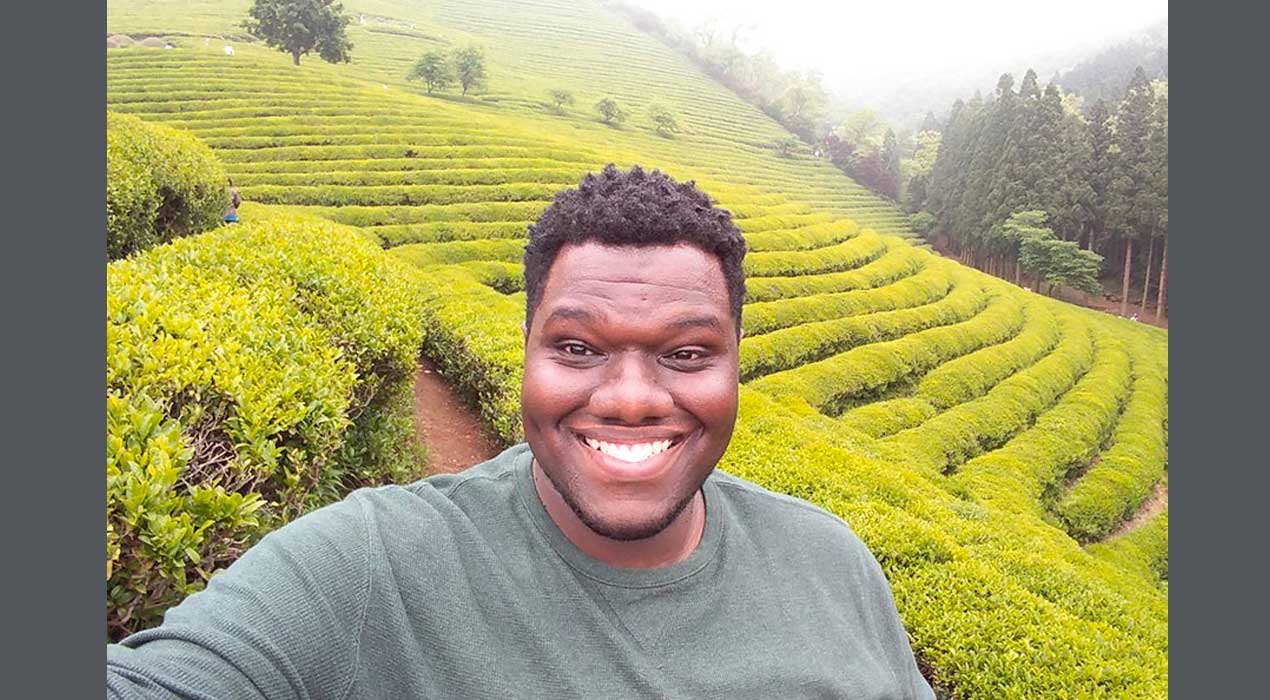 Thomas came to Clayton State as a transfer student from Coastal College of Georgia, where he was a Communications and Media Studies major. Being from the other side of Georgia in Brunswick, he had never heard of Clayton State until passing campus on the way to a concert in Atlanta.
"At the time, I was looking for an institution to transfer to and it seemed extremely serendipitous I would encounter the sign (for Clayton State) at that moment," he recalls.
Though it admittedly took a little while for Thomas to get out of his shell at Clayton State, once he did, there was very little he was not involved in while a student. Thomas spent time as a student assistant for the Office of Media Relations, host of the CSU news show "Laker News Update," a member of the Board of Student Conduct, and as a resident assistant.
In addition to all of these extracurricular activities, Thomas also was a teaching assistant with Dr. Virginia Bonner, professor of Film and Media Studies. He remembered the great impact she made on him while he was a student at Clayton State.
"Through working under Dr. Bonner, I learned excellence was something that needed to be cultivated," he said. "I wasn't less of a person for acknowledging I needed to work at being excellent in my work. It made me a better student and person for knowing what was needed for producing my best work."
Further, while Thomas was at Clayton State, he had the opportunity to study abroad on the University's first trip to South Korea. Taking a course entitled National Cinemas, Thomas and his classmates partnered with Korean students to study Korean cinema from the early 1900's up to present time, the use of documentary film, storyboarding, and camera techniques for documentary film.
"I can tell you it was eye-opening, exhausting, inspiring, fun, and life-changing," Thomas stated. "Meeting and working with Korean students who shared our own passion for media – albeit in a different language – was such a moment of connectivity for me. Nearly a world apart, these students still shared the same passion we did."
While most students typically return from a study abroad trip with appreciation for a new culture, Thomas was completely transformed by the experience. So, he decided while he was there, that he would return to South Korea.
"I was really drawn in by the culture, and the warmth we received, made me feel at home," he remembers.
About a year after he graduated from Clayton State in 2015, Thomas finally fulfilled the promised he made and returned to South Korea in April 2016 to be an elementary school English teacher through the Teach and Learn in Korea (TaLK) program.
The program allows native English speakers to live in Korea as government scholars. There, he helped create lesson plans for students in rural areas of South Korea. He also co-hosted a radio show and briefly worked as an international recruiter for Clayton State, which allowed him to interact with Korean students interested in traveling to the United States to attend the university in the United States, as well as practice the Korean language.
Recalling the most rewarding aspects of his trips to South Korea, Thomas said it was "being able to adjust my perspective and see life through the eyes of others. Meeting people and learning to truly listen to their perspectives without comparing it to my own or trying to make sense of it through my own lens was life-changing. It helped me to solidify my understanding of humanity and how different life experiences are for all living people."
Thomas plans to take his experiences from South Korea, and combine it with his experience as a resident assistant, to work in higher education. He is currently pursuing his Master's degree at Mercer University and hopes to one day be a department director for either Housing & Residence Life or International Student Services.
Thomas said his career aspirations are focused on sharing his experiences with students in hopes that they will grow in their own college and life journey.
"My time in Korea influenced me heavily in regard to inclusive student development that benefits from the specific and deliberate service to all students," he said. "I know the lessons and experiences I gained at Clayton State will help me do that successfully."