Alumni Spotlight: Gideon Esuzor
(March 16, 2021) -From West Africa to South Atlanta, and other places all over the world, Clayton State alumnus Gideon Esuzor '06, '12 has devoted his life to serving others. As a nurse, an officer in the Air Force Reserves, an officer in the Public Health Service working with the Food & Drug Administration (FDA), and a volunteer in his community, Gideon makes a far-reaching positive impact on a daily basis.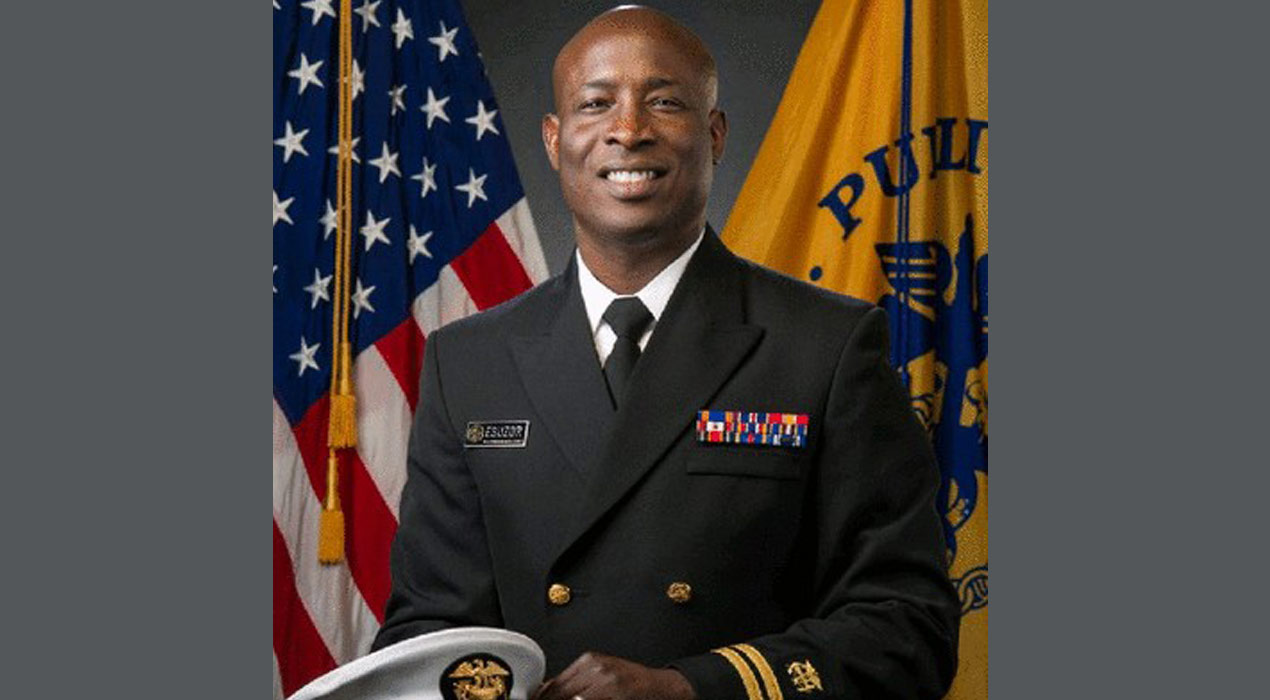 Born in Lagos, Nigeria, Gideon Esuzor came to the United States at twenty years of age. Residing in the Atlanta suburbs, Gideon recalls he knew early in his college search process that he wanted to attend Clayton State University, and he also knew he wanted to be of service. He started at a community college with the aspirations of becoming a pharmacist. However, after taking an Organic Chemistry course, Gideon made the decision that pharmacy was not going to be his career path.
Still weighing his options, Gideon had a friend mention to him he should consider becoming a nurse. Initially unsure, Gideon said, "Coming from West Africa, being a male nurse wasn't a thing, stereotypically speaking."
However, he relented and began his experience at Clayton State in the nursing program in 2004. Thinking back over his time on campus, Gideon almost immediately discussed the rigor of the program but how well-prepared he was. He says he wanted to be involved and be a part of the Greek life scene on campus, but nursing school made that difficult.
Nevertheless, the program, and specifically the professors, made a huge impact on Gideon's life. He noted Dr. Victoria Foster, who he says is a mentor for him to this day, and Dr. Grace Nteff, who he affectionately called his "nursing school mom." His most effusive praise was for Dr. Lisa Eichelberger, who he remembers feeling like chased him down with a scholarship.
During his clinical rotations, he spent time in the emergency room at Grady Hospital in downtown Atlanta and enjoyed the pace. Upon graduation, he began his career at Grady in the ER and transitioned to the intensive care unit where he stayed until the end of his four-year tenure.
"Those years at Grady were formative. Skills I still use today, I learned at Grady," said Gideon.
His career continued to Wellstar Health System. While there, Gideon made the decision he wanted to pursue a career in management, leading him to apply to the MBA program at Clayton State. Concentrating in supply chain management, he received his master's degree in 2012.
While pursuing this degree, and working at Wellstar, Gideon felt a desire to do more, so he joined the Air Force Reserve as a flight nurse.
Thinking about why he chose to do that, Gideon said, "I realized how fortunate I am to be in the United States, and I honestly wanted to give back to a country that was so welcoming to me." He spent six years as a part of the Air Force, deploying twice to Afghanistan and Qatar.
His civilian nursing career over the next few years took him to stops at the Atlanta VA Medical Center and Emory St. Joseph's Hospital before leaving the Air Force and becoming a Lieutenant Officer in the U.S. Public Health Service (USPHS). One of the eight uniformed services in the United States and comprised of approximately 6,000 officers, those in the USPHS are then assigned to one the federal agencies within the U.S. Department of Health and Human Services (USHHS). These include the Centers for Disease Control and Prevention, National Institutes of Health, and Indian Health Services, among others. Gideon was assigned to the Food and Drug Administration (FDA) where he serves as a drug investigator.
As a member of the USPHS, Gideon can be called upon to use his nursing skills and be deployed to serve various communities, usually those who are underserved. Gideon said, while the members of the Department of Defense services wage war against nations, the members of the USPHS wage war against diseases. His deployments have included being sent to the U.S.-Mexico border, Hawaii at the beginning of the COVID-19 crisis, and a Native American tribe land.
Gideon's role at the FDA is to conduct audits and inspections, show up to firms unannounced, and look at manufacturing quality, processes, and supply chains. While he may no longer be in the military, he said he's still "making sure we're protecting the American people" and holding pharmaceutical firms accountable. Having the nursing and medical background from Clayton State allows Gideon to be capable of effectively addressing and understanding the necessary issues with the FDA, but also having an MBA from Clayton State allows him to sit in the board room at these firms, understand what they are going through, and have a level of peer-to-peer understanding.
Looking to the future, Gideon is currently pursuing a doctorate of nursing practice and would like to open a mobile health clinic for underserved communities that will help dissipate health disparities. He is active in his community and is passionate about mentoring young black men, especially those interested in a career in nursing. He notes one of his mentors has even gone on to become a student at Clayton State.
"I owe much of my success as a person and in my career," he says of his relationship with Clayton State. Suffice it to say, we owe a lot to Gideon Esuzor and his service to the community and to our nation.