Alumni Spotlight: Judith Chime
(March 10, 2020) -Arguably the greatest keeper in the history of the program, Judith Chime '11 was a huge reason for the two most successful seasons in Laker women's soccer during her four-year tenure from 2002-05. Besides earning her degree in Integrative Studies, Judith has left her mark here on Clayton State's campus most notably through her involvement in sports.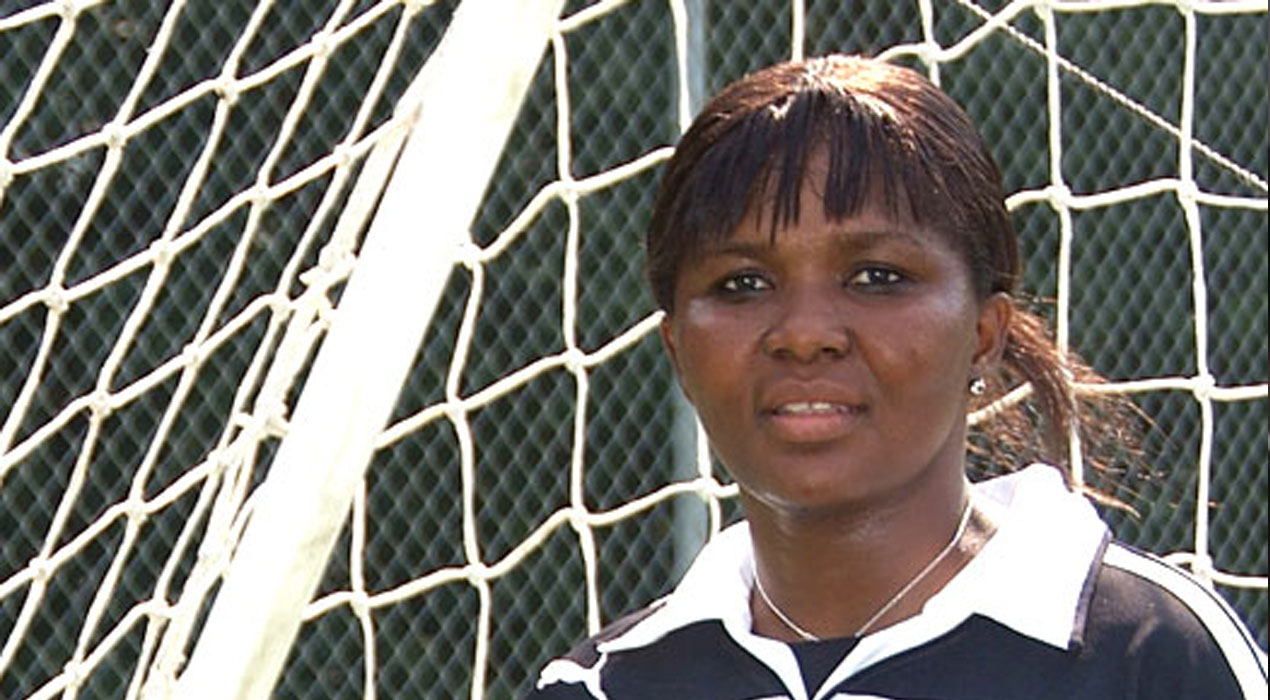 In a team record 77 games she posted a record of 39-27-8 with program records of a 1.15 goals against average, 25 shutouts 7,100 minutes along with an .843 save percentage. The latter is a program record as is her single season mark of 1,845 minutes during the 2005 season. The 25 shutouts tie for third all-time in the Peach Belt Conference and is a record she held until 2015.
Chime also holds all three major save records with 20 against Alabama Huntsville on September 3, 2003, a total of 218 that same season and 494 for her career. Her single season and career marks are still the most in PBC history and she is the program's all-time leader in season goals against average (0.59 in 2005) and shutouts (10 in 2005). That shutout total is tied for the eighth most in league history.
Since the league began sponsoring women's soccer, she is one of just 14 individuals to earn All-Peach Belt Conference honors all four years and the only Laker soccer player to do so, men's or women's. Additionally, she was named to the All-Southeast Region Team in 2004 and 2005.
A key reason for the most successful era in the history of Clayton State women's soccer, Chime would help the Lakers to three PBC Championship Games. That would include 2002 when she went 10-4-5 with eight shutouts as a freshman and barely fell 1-0 to Kennesaw State. In 2004 she posted a 12-6-1 record and once again led the program to the title game where it suffered a 2-1 double overtime decision to North Florida.
That would be the start of a breakthrough for the Lakers, however, as that year would see the team earn its first trip to the NCAA Division II Tournament where they dropped a narrow 3-2 decision to Carson-Newman. It would be a trip they would repeat in 2005 but in a different way.
Chime would deliver her best season at 13-3-1 as Clayton State powered through the PBC Tournament, downing USC Upstate 2-0 and obliterating Armstrong State 5-1 in the semifinals. This time it would be their turn to be on the right side of an overtime decision as they downed rival Columbus State 2-1 in OT to earn an automatic berth to the NCAA Tournament. While their second straight trip would end with a 2-0 defeat to Carson-Newman, it, along with one of the greatest keepers in program history, helped lay the foundation for the program.