Alumni Spotlight Perry Slaughter
(November 21, 2017) -When your manager calls a team meeting to tell all employees their jobs are in jeopardy, many individuals would be scared or simply wait it out and hope for the best. Not Perry Slaughter, though. Slaughter '00 decided his "Plan B" would be to leave Delta and open his own running specialty store, Run Fit Sports. A natural runner from a young age, Slaughter realized early he did not tire as fast as other kids, "It seems I was built for endurance sports."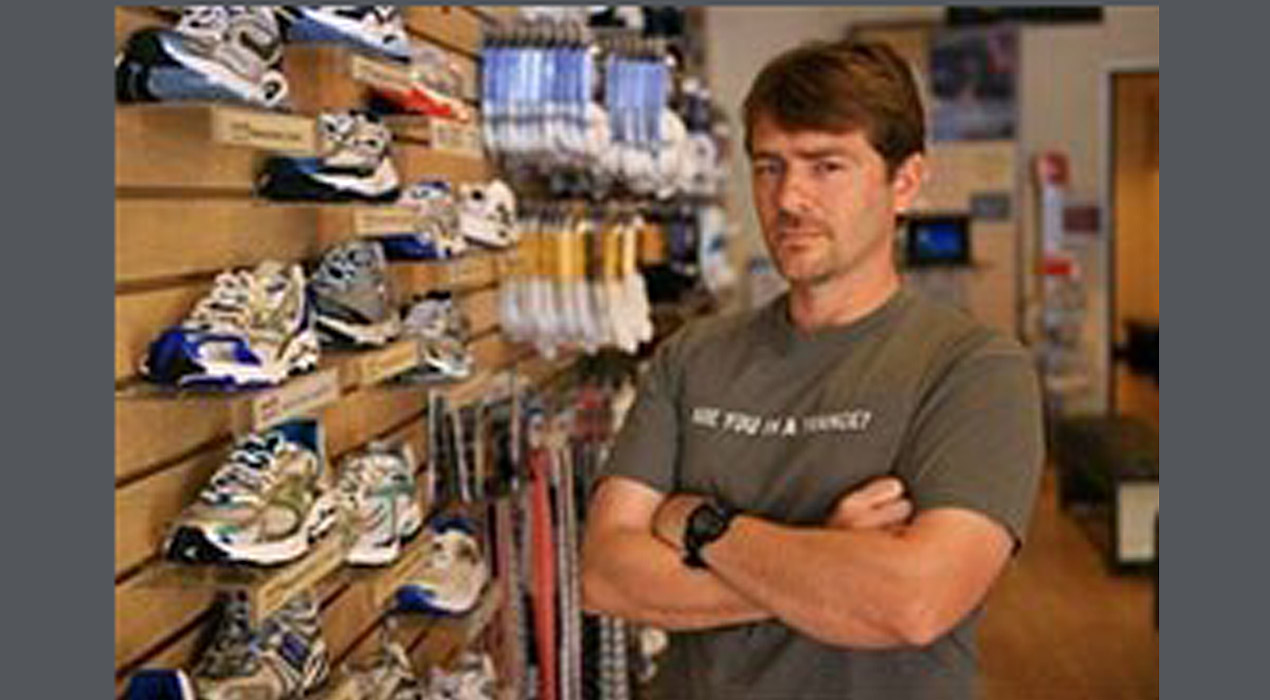 He took this gift to Clayton State as a member of the cross country and track and field teams. He remembers fondly the times he had at Clayton State with his teammates, "It made practice more enjoyable and knowing they were counting on me in meets made the effort worth it."
Opening Run Fit Sports made perfect sense for Slaughter, a USA Track & Field Certified Coach and a Certified Personal Trainer with experience on Clayton State's teams, coaching at Mary Persons High School, and a business degree. He has run 15 marathons, picking up a win at the 2002 Aviation Museum Marathon and the USA Track & Field Georgia 50K Ultra-Marathon record for men age 35-39 at the Silver Comet 50K Ultra.
"I entered (the Silver Comet 50K Ultra) as an over-distance training run for an upcoming marathon," Slaughter recalls. "However, it was one of those rare occasions when everything felt right and running seemed effortless."
Not all races are easy, though. Slaughter recounts the Boston Marathon, which he has run twice, as the most grueling race he has completed, "The early downhills really beat up your quads. Then, when you are exhausted at about 20 miles, you still have six miles of rolling hills."
With stores in Macon, McDonough, and Warner Robins, Slaughter and Run Fit Sports use technology such as iStep foot scanner and specialized iPad software to find the right shoes for clients' foot type. He says the best part of being a business owner was initially being able to use his passion for running, as well as the satisfaction of being able to help others run better.
"Now, 13 years later, I would say the best part is knowing my efforts are making a difference in the community, providing jobs, and still helping people run and walk pain- and injury-free," Slaughter says.
Advice on preparing for the Loch Socks Homecoming 5K:
"As a USA Track & Field Certified Coach and Certified Personal Trainer, my advice for those training for the 5K would be to build your mileage up slowly. If you get injured, you will not make it to the starting line. The week of the race, focus on resting up and building your confidence.
The day of the race, divide the distance into each mile. In the first mile, run with your head, being smart and not going out too fast. In the second mile, run with your heart, being honest with yourself to keep pushing at a pace that you can maintain. In the third mile, run with your gut, leaving nothing on the course and leaving no room for regrets that you could have run harder. In the final tenth of a mile, sprint as fast as you possibly can with all you have left and run through the finish line.
No matter how you finish, if you follow these guidelines, you will have a satisfying experience."