Clayton State University, Georgia senator celebrate Constitution Day
(September 22, 2023) - Among the many rights we Americans have, the First Amendment protects what some may argue as the greatest of them all.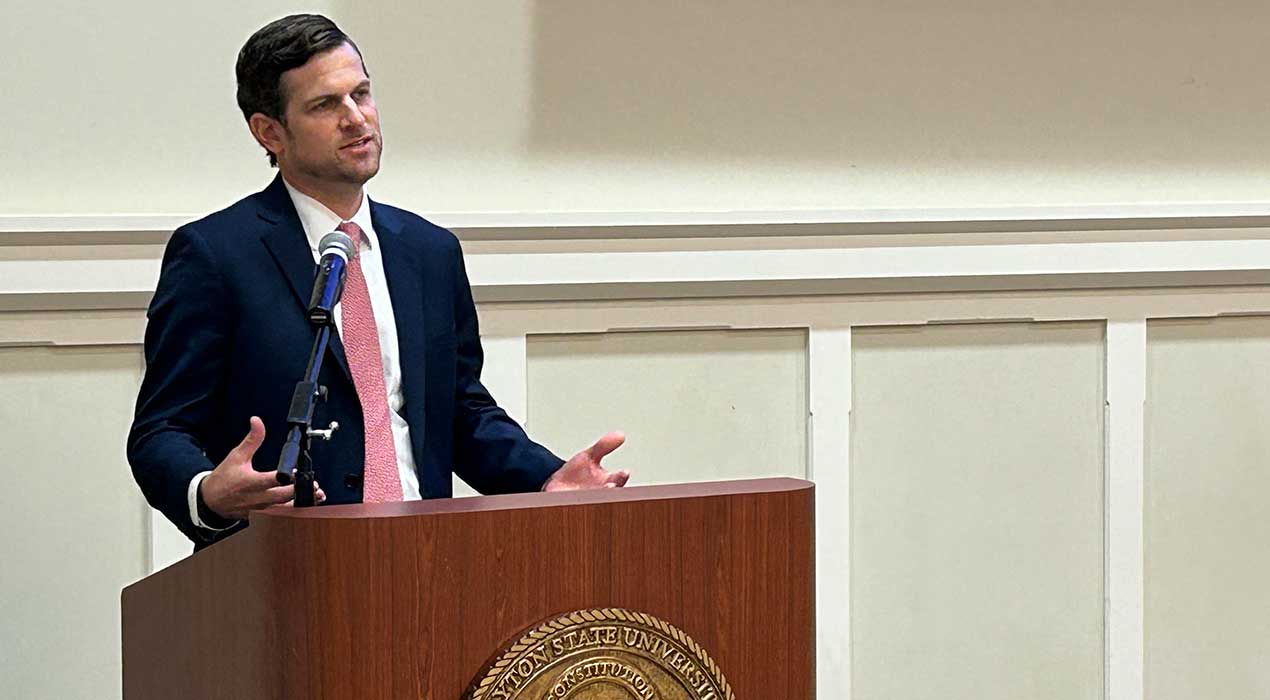 To celebrate Constitution Day 2023, Clayton State University opened its doors to Georgia Senator Brian Strickland of the state's 17th district on Monday, September 18, at the Student Activities Center ballroom.
For roughly an hour, Sen. Strickland engaged with students about his perspectives on both the U.S. Constitution, as well as the significance of the First Amendment in maintaining a healthy democracy.
The senator said he believes, now more than ever, that American politics have become more "personal" for citizens over the last several years.
However, he added that this creates more of a reason to celebrate our Constitution.
"The Constitution, to me, is the one thing we can reflect back on and say we all have in common," Strickland said. "This is the foundation for everything this country is built upon. I think sometimes people on both sides of the aisle get so dug into the politics that they forget what we all share in common and how difficult it was to get to this point."
Of course, built into the Constitution is the First Amendment, which includes several cornerstone American rights such as our freedoms of religion, petition, the press, and speech – the latter even called "a principal pillar of a free government" by Benjamin Franklin.
Sen. Strickland, like Franklin, spoke on his admiration of the First Amendment, which provides Americans the freedom to "be able to challenge your government, always speak out, and express yourself freely."
In addition to the senator, Clayton State political science professor David Pena also spoke at Monday's event and even helped organize it.
He was excited to see a positive turnout from students and staff, but also hoped that those who attended left with a sense of respect for the freedoms we have as United States citizens.
"I really hope that everybody walks away with a greater appreciation for how we got to where we are and their role in safeguarding those same rights," Pena said. "I hope they take away something from Sen. Strickland's perspective as not just a citizen, but a legislator, and gives that unique perspective to how the state interprets it [and] how he interprets it."
Additionally, the senator even hoped that students felt "a little uneasy" upon the conclusion of his talk, wanting Lakers to leave "realizing how fresh these ideas are for today" and how "simple" it'd be to lose them.
He also expressed his gratitude that Clayton State hosted an event to recognize Constitution Day, saying it should be better recognized and celebrated by all Americans.
"We've got to focus more on the Constitution," Strickland said. "There's so much more we can do. I think we are at the point, maybe rightfully so, [where] we can just assume 'I have these rights.' But you have to make sure that we're all challenging ourselves and looking back at history remembering where these rights come from. History does like to repeat itself, and we can't just get complacent and take these rights for granted."