Limitless Leader: Clayton State senior begins career in Atlanta Mayoral Office
(August 29, 2023) - If you were to meet Atlanta Mayor Andre Dickens and ask him who Clayton State's James Gathings is, he'd probably begin excitedly hyping you up about the newest employee in his office.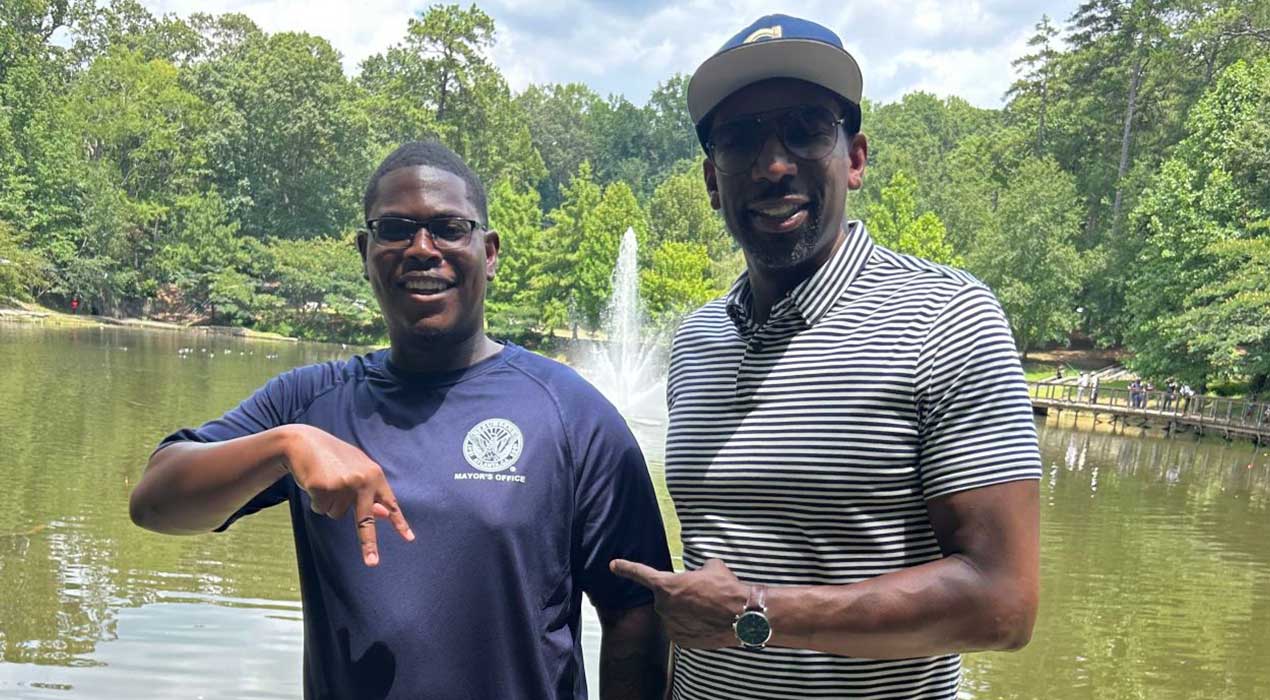 At least, that's what Gathings said when discussing his new role in Georgia's state capitol.
"My first day of being a full-time employee, he told a room full of 60-70 people that I'm going to be the next president," Gathings said. "That humility on his part to say that and be excited for me to be a part of his team ... that set my sights higher than what I can even explain."
But what is now a strong, municipal job began simply as an internship this past summer.
Last spring, Gathings – a member of Clayton State's African American Male Initiative – received an email last spring from Career Services showcasing a poster for the Partnership for Inclusive Innovation – a statewide organization aimed to "establish Georgia as a tech capital of the East Coast and model for inclusive innovation."
"My financial situation ended up propelling me to do it because I needed something to do this summer," Gathings said. "I wanted it to be something educational, impactful, and meaningful."
With a new mindset in action, Gathings said he examined 30-35 available projects.
But there was one project with the city of Atlanta that quickly stood out above the rest.
He applied, thought his interview went amazing ... and didn't get the internship.
"The person I interviewed with was a senior policy advisor for the mayor," Gathings said. "The interview ended and she said, 'I look forward to our paths crossing again soon.' But I was put on the wait list. I was, like, 'I thought the interview went good ... what's going on?'"
While initially disappointed, Gathings said that he remained patient and continued to trust the city advisor.
Not much later, he was quickly added to an available project ... but not the one he applied for.
Soon after, Gathings then found himself interning in Mayor Dickens' office.
He also began working closely with Greg Clay – the executive director for the Mayor's Office of Constituent Services.
"It was essentially two internships in one," Gathings said. "Your internship was with Inclusive Innovation, but your project site is wherever you were chosen to be. Mine was the Office of Constituent Services. The main objective was to help with external engagement strategies. That was about meeting constituents where they are and giving them a contact with Mayor Dickens, making sure they know that your mayor wants to engage with you."
Eventually, Megan Sparks – the senior policy advisor Gathings interviewed with – informed him that although he didn't have the skilled she needed, she admired his passion and admiration for Mayor Dickens and also believed partnering with Greg Clay would be a better fit for him.
He's since agreed, saying it's been everything he's ever dreamed of – much more than he could've dreamed he'd accomplish while growing up in tough conditions in Mississippi.
"My father was a well-known street guy," Gathings said. "But my mother was a pharmacist – a first-generation college student, the smartest in her graduating class. So, quite naturally, having a mother like this motivated me."
Gathings said his mother's influence is still with him today, noting that her pursuit for her degree didn't stop even after giving birth to him while studying for her undergraduate degree.
He said she even started her degree over completely from scratch as an upperclassman after having him to provide a better life.
"I spent a lot of my youth watching her study," Gathings said. "That left an impact on me because, like, you want to study and read more than play with me? This reading, this studying ... it has to be some good stuff. I love reading and writing because I watched her do it."
However, he credited his leadership skills to his father – a man he said did his best to "make a positive situation" in a "negative environment."
Although his father passed away while he was a senior in high school, he said his teachings also continue to live on.
"My first words were 'no limits,' because he wanted me to know that I have no limits," Gathings said. "He was so street oriented. So, I grew up having this balance of knowing how to navigate the streets and navigating school."
Even after moving to Clayton County, Gathings said these teachings have not left him, nor will they ever.
He said they've helped him earn a prolific, gubernatorial role in one of the nation's most prominent and influential cities.
In his role at the mayor's office, Gathings said he is right at the heart of what the mayor is doing and has the "utmost respect for him."
He said it's inspired him to try and make a comparative difference moving forward.
"I plan on really establishing myself as a leader in the deep South and being more of a resource to Commissioner Clay and Mayor Dickens," Gathings said. "Not only are they my bosses, but they're my mentors. That's one thing I take great pride in."
Gathings is a passionate admirer of Mayor Dickens, a man looking to solidify his family's legacy, and someone who credits God for every step he's made having been "intentional" for the inspiration of both himself and others around him.
While his career in Atlanta just beginning, he's also planning on staying in Morrow, having already been accepted into the master's program at Clayton State in Leadership Development.
Establishing himself as a "limitless leader" is what he wants to do and he credits Clayton State for providing the resources to help him get there.
"I love Clayton State so much," Gathings said. "Clayton State allowed me to be myself and tell my story [in a way] that I feel no other university would allow me to. It gave me opportunities I feel no other university would allow me to. The things I've been able to accomplish as a four-year student are legendary. I'm saying that humbly."