Student Artist Places in Exhibition Tributing Late International Entertainer
(March 15, 2022) -Sheila Corona, a Clayton State junior, says her recent award-winning artwork posthumously honors a widely known South Korean pop idol, whose personal story remains unknown despite his international public fame. He died a mysterious, untimely death at age 27.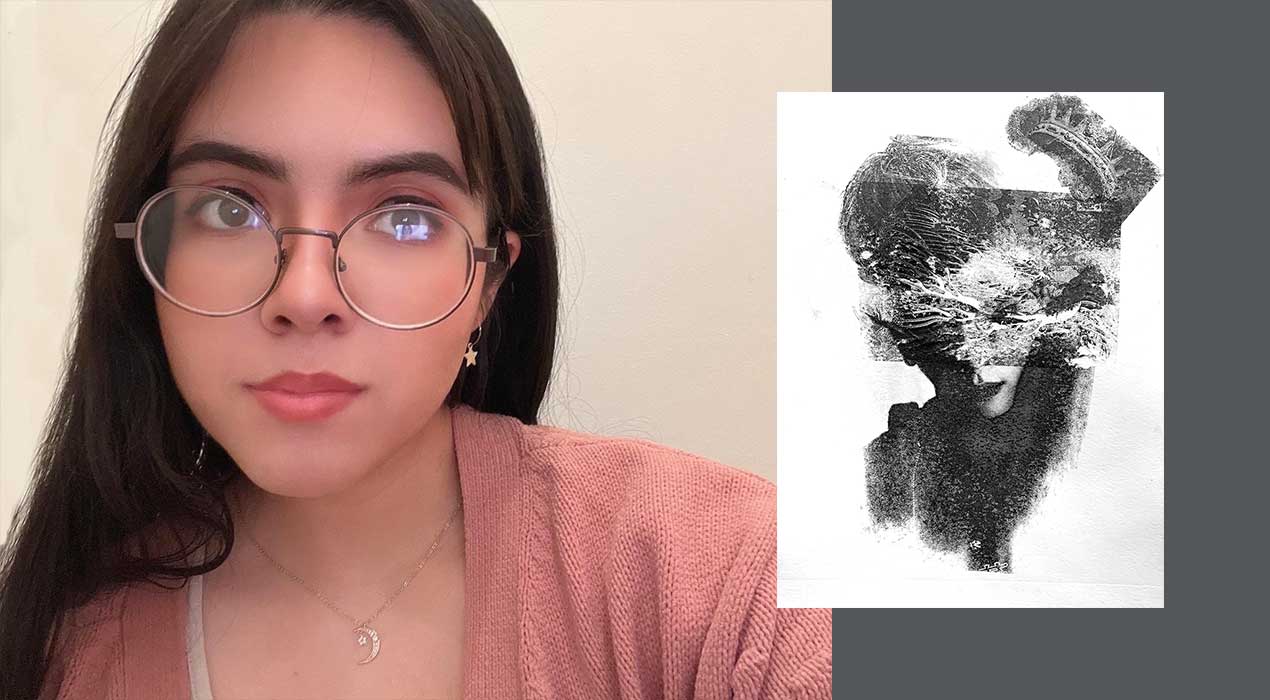 Clayton State art professor, Alan Xie, submitted her work to the Peach Belt Conference Online Art Exhibit recently and it garnered second place in the juried exhibition among nine other institutions. This is her second year participating and first-time placing in the competition. This year, her piece, "Monotype," also the name of the medium used, tells the story of Jonghyun, a lead singer and second-generation member of the K-pop group, Shinee and contrasts his popularity with his private life.
"A part of the reason why you can't see some of his features on his face is because we don't always know the entire story of these idols," said Corona. "A lot of it is a mystery but they still present themselves to the best of their abilities where fans across the world feel connected. I know I did, and I still do feel connected, especially to Jonghyun."
In her artistic characterization of Jonghyun, Corona placed a crown near the right side of his head symbolizing that even under immense pressures as a mega entertainer, he continued to give his best to his fans, while leaving them with happy memories throughout his performance years.
The Riverdale resident said that this exhibit encouraged her to learn more about herself and her award was a humbling surprise.
"I always had doubts about my capabilities and receiving this honor came as a shock to me. It serves as motivation to keep going and challenging yourself," she said.
This year's Peach Belt Conference Online Art Exhibit judge and Arts Center of Greenwood gallery and marketing director, Jennifer A. Smith, noted that Corona's monotype appealed to her immediately upon her first review of the entries.
"It is important for students to have opportunities like this to exhibit their artwork at the collegiate level alongside their peers throughout the state. These types of juried exhibitions challenge young artists to engage in healthy competition, build their curriculum vitae, and expose their artwork to arts professionals within the region," said Smith. "(Her) particular work translates as a materialized memory. It leaves me wanting to peel back some of the layers in order to see more, read more, and know more about the story."
As a part of the National Collegiate Athletic Association, Division II, the Peach Belt Conference provides through its dependent collegiate members a forum for student participation in athletic, academic, and co-curricular events. Its student-based art exhibition has been hosted annually for over two decades.