Endowment & Scholarships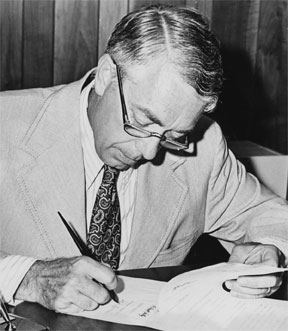 Bob Oliver, a charter member of the Board of Trustees, signs the original Foundation charter in 1974.
Endowments at Clayton State University are a sound investment in Dreams. Made Real. An endowment is a gift held in perpetuity and invested to provide a stable funding source for university initiatives.
With an endowed gift, you provide permanent support for the University. Your gift is invested — never spent — and each year a distribution, like dividends on a mutual fund account, is made to your chosen program or area, or the funds can remain unrestricted to meet the most critical needs of the university. Investment earnings above the dividend rate help the endowment value grow over time, to keep pace with inflation and maintain your endowment's spending power.
There are several endowment opportunities and funding levels available at the University. The Clayton State University Foundation works with each donor on an individual basis to tailor both the type of asset used and in preparing the guidelines for the administration of each endowed fund.
Choosing what your gift will support is simply a matter of selecting a program that matches your interests. From book funds, to undergraduate scholarships and graduate fellowships, to deans' and presidents' excellence funds, your legacy can take almost any form.
Once an endowment is officially established, you or anyone else may continue to add to its principal at any time. Moreover, by selecting the title of your endowment, you can forever link your name, or that of a beloved family member, friend, or organization, to Clayton State University.
Interested in starting an endowment, contact the Vice President for Advancement, ChaseMoore@clayton.edu.
Frequently asked questions about endowments at Clayton State.