Above all, you succeeded
Clayton State News
December 7, 2020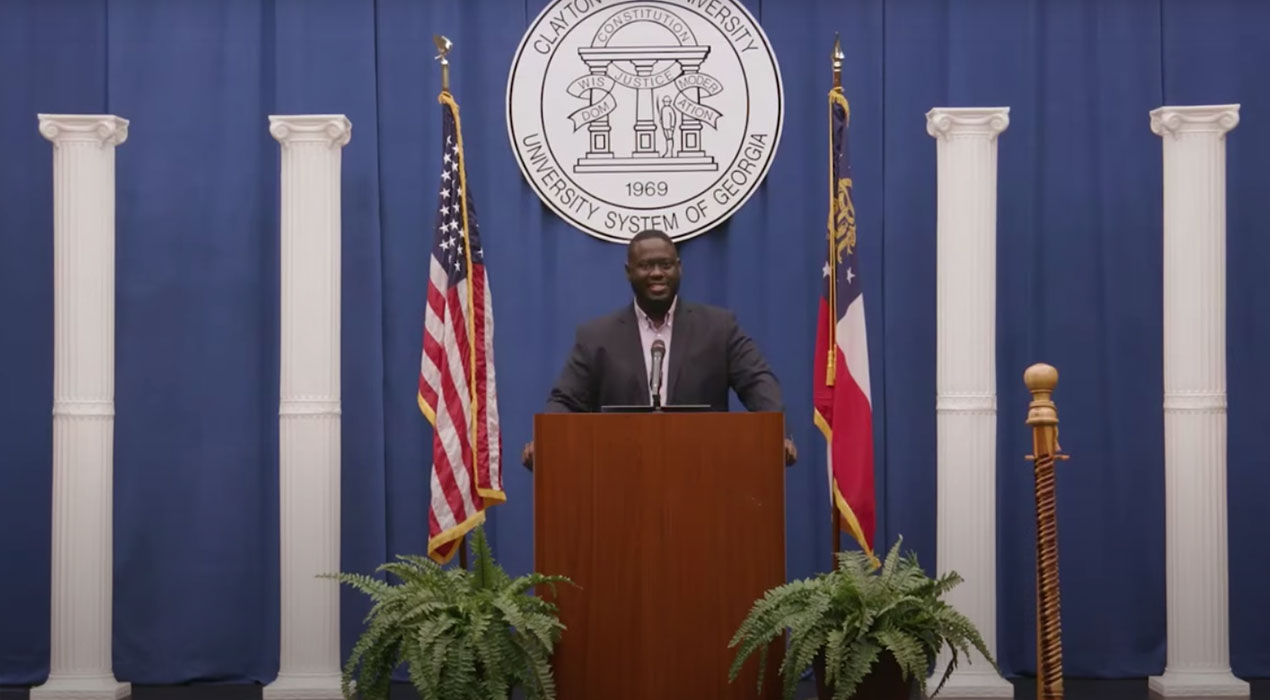 With dreams on everyone's mind and a little digital magic, Clayton State University held a spirited virtual commencement on Saturday, Dec. 5. Students who were candidates for graduation in spring and fall 2020 were honored for their remarkable academic achievements, particularly in a time of global crisis.
"All of us wish to be back to a sense of normalcy, and yet here we are. Nothing has been normal this year, but even under these abnormal circumstances, we have room to celebrate your accomplishments, made even more impressive by what you have soared above for the last nine months—a pandemic that has effected millions, an economic downturn that has affected millions more and an awakening of a need for social justice that should affect all of us," said University President Dr. Tim Hynes in his remarks to students on Saturday. "In the face of all of that, you have succeeded academically."
Both undergraduate and graduate students were recognized from the College of Arts and Sciences, College of Business, College of Health, College of Information and Mathematical Sciences and the School of Graduate Studies.
Commencement keynote speaker Fred Hicks reflected on his own uncertain future as a Clayton State graduate in 1999 and the feelings graduates may have as they look to what may seem like an uncertain future.
Now one of Georgia's top political strategist and a member of the Clayton State University Foundation board of trustees, he said that at the time he was a struggling recent grad seeking work while worrying about the new demands of fatherhood. He reminded students that their degree is what would open the next door of opportunity, much like it eventually did for him.
"A college degree from anywhere is not the express pass along a rainbow, but it is a key to unlocking a gate that leads to a field of opportunities that you can access with the decisions you make from this day forward," he said.
In addition to well-wishes from various faculty and staff, as well as a special welcome to the new alumni from the university's alumni association president Crystal Billingslea, opera soprano Angela Brown and celebrity photographer Derek Banks gave congratulatory messages to the class of 2020.
Tiffany Burston, a Master of Public Administration graduate and the administrative assistant in the Student Activities Center, served as the student commencement speaker for master's program candidates.
As a first-generation student and triple Laker, Burston praised the graduating for overcoming the shared challenges of completing an education during the pandemic.
"We are unique," Burston said. "We showed a level of persistence like no other, we showed a level of resilience like no other, and today, we share an accomplishment like no other."
Undergraduate student commencement speaker Kahlyah Colonel challenged the class of 2020 to take the lessons of this year, from a worldwide pandemic to social upheaval and civil unrest, to be the gamechangers that create a just future.
Know that you are resilient and that you are strong enough to face any challenge that may come your way," Colonel said. "We are an unbreakable force."