Innovation Center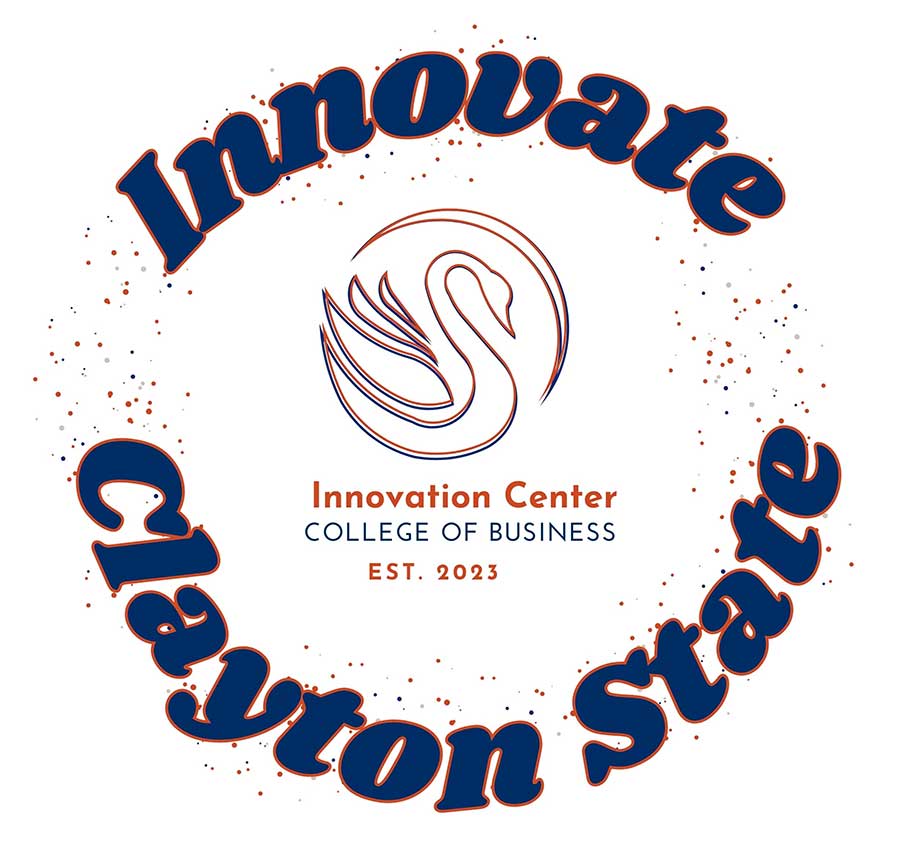 The Innovation Center is a creative and innovative space for Clayton State students and the surrounding communities.
We intend to implement initiatives, and host workshops and events that uphold the pillars of the College of Business's mission and vision. While also exposing students and the surrounding community to Innovation, Entrepreneurship, Financial Literacy and much more.
Our commitment goes beyond the walls of this facility. We intend to implement initiatives, host workshops and events that not only uphold the pillars of the College of Business's mission and vision but also actively contribute to the growth and vitality of our local community.
Through strategic partnerships with local businesses, we aim to harness the power of innovation and entrepreneurship to strengthen the economic fabric of our community. These partnerships will provide invaluable opportunities for our students to engage in real-world projects and internships, enabling them to apply their knowledge and skills in practical settings.
Our vision is to foster a culture of innovation and collaboration that extends far beyond our campus, creating a symbiotic relationship between Clayton State University, our students, and the local businesses that drive our community's prosperity."
Our Centers
CSISE - Educating, inspiring, and supporting social innovators and entrepreneurial leaders to respond to the social, economic, environmental, and governance challenges facing our local and global community.
CREST - Collaborating with local governments to conduct research on economic and development matters. Through this research, the goal is to achieve economic growth in the South Atlanta Metro Area and beyond.
CSCM - Providing individuals and organizations with knowledge and skills to drive superior business results through the understanding and application of supply chain management concepts, processes, and industry methodologies.
CWIL - Fostering meaningful partnerships between women in Higher Education and other industries. While committing to inspire women to be authentic leaders who positively impact their organizations.
The centers within the College of Business at Clayton State University are actively involved in and committed to the growth and development of the community. Our centers are: The Center for Supply Chain Management (CSCM), The Center for Entrepreneurship and Innovation (CSISE), The Center for Research on Economic Sustainability and Trends (CREST), as well as The Center for Women in Leadership (CWIL). The centers organize meaningful seminars, expert panels, competitions, and experiential learning opportunities for students and surrounding community members. The Innovation Center will provide a dedicated space that allow such events to come to life! As well serve as a creative and entrepreneurial space for all Clayton State students.
Innovation Center Happenings
What have we been up to? Since its soft opening in Fall of 2022, the Innovation Center has hosted over 45 events bringing over 800 guests into the space.
Our Signature Events over the last year were:
Center for Women in Leadership Conference:

Communications Seminar + Workshop
Financial Literacy Workshop

Women on Wednesday's Speaker Series
Clayton County Legislative Delegation Town Hall
College of Business Programs Fair - High School Visit
College of Information and Mathematical Sciences Symposium
Jim Wood Speaker Series
Dean's Distinguished Speaker Series
Clayton County Legislative Delegation Town Hall
COB Alumni Employer Recruiting Event
Social Innovation Challenge
Showcase of the Innovation Center
---
Thank you for engaging with us! I hope we can collaborate or partner in some way! If you have questions about our upcoming events or would like to work with us, please reach out to the Innovation Center Manager.
Email: JalenTeal@clayton.edu
Phone: 678-466-4517